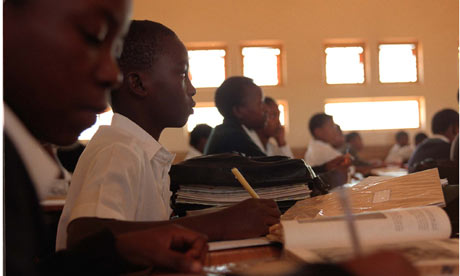 Hoy traemos a este espacio para dos secciones que últimamente teníamos abandonadsa
[e-learning en prensa]
y
[5 enlaces][5 links]
,, así que ahí tenéis un variaito zeviyano ...:
1)
Nokia uses mobile e-learning to align social and business objectives
en The guardian
Web-based MoMaths service aims to plug learning gap in pupils from low-income households and create new business opportunities in Africa
When it comes to mathematical basics, "MoMathematicians" are not only clued up but plugged in. For those not in the loop, "mo" is for mobile and linking the mobile to maths was the bright idea of Finnish phone manufacturer Nokia.
Mobile phones are the "laptops of Africa", explains Riitta Vänskä, senior manager of Nokia's mobile and learning solutions team. "Via this service, we believe we can give low-income learners access to high-quality education." Today, high school pupils across South Africa are learning theory and solving sums on their handsets as a result.
2)
Dejemos que los parados se formen por "elearning"
en Invertia
Según la última Encuesta de Población Activa más de tres millones de desempleados, el 55% del total, carecen, no ya de cualificación profesional, sino de la educación secundaria obligatoria. Ahora atravesamos una fase de destrucción de empleo pero tarde o temprano se producirá la reactivación y se volverán a crear empleos y entonces, todas estas personas, si no se han logrado formar, simplemente quedarán excluidas de la recuperación.
Por Francisco Rueda, director área de Empleo de Élogos
Se ha perdido más de millón y medio de puestos de trabajo en la construcción, muchas de las personas que los ocupaban tendrán que cambiar de sector y eso no va a ser fácil. Es un proceso complejo que durará décadas, y que implica una transferencia masiva de competencias, con inversiones sostenidas en formación, y todo eso lo vamos a tener que hacer cuando el presupuesto se ha desplomado. En 2011 disponíamos de algo más de 300 euros por desempleado, en 2013 no vamos a contar ni con 100 euros per cápita.
Ahora estamos obligados a ofrecer más formación, a más personas, con menos recursos, y eso exige, entre otras cosas, utilizar las oportunidades que nos ofrecen las tecnologías de la información y la comunicación. Y sin embargo la mayoría de los servicios públicos de empleo siguen teniendo cerrada, normativamente o por la vía de los hechos, la posibilidad de utilizar la teleformación para desempleados. A pesar de que la formación en línea, es más barata, más flexible y más accesible; a pesar de que nos ahorraríamos millones de euros sólo en becas de desplazamiento, hoy en día sigue siendo prácticamente imposible que un desempleado llegue a formarse a través del e-learning.
3)
Vic Education blasted over e-learning system blowout en itnews
Key contractor says it's 'not a technology issue'.
Victoria's Education department has been blasted over its handling of the Ultranet e-learning project after an audit estimated costs would blow out to $180 million by June 2013, almost three times what was first budgeted.
Ultranet
was designed to provide students
with a personalised webspace for online learning and collaboration, while providing parents with a window into their child's "test results, teacher feedback, homework activity, attendance and timetables".
CSG
won the original contract
in June 2009 to deliver and maintain the system, but it later offloaded its technology solutions business — which handled the contract —
to NEC Australia in May 2012.
The 'business as usual' phase of the Ultranet contract is set to expire in June 2013, according to a Victorian Auditor-General report (
pdf
), which raised the prospect that the system could be scrapped entirely once current hosting and maintenance arrangements lapse.
But NEC Australia, which is currently hosting and maintaining the system told
iTnews
that the technology isn't the problem.
4)
NutriCare incorpora un 75% más de asesores comerciales gracias al elearning
en La vanguardia
Mediante el software elearning Animgallery de e-doceo, el equipo de formación de NutriCare creó un curso de 15 horas con animaciones, vídeos, tests y ejercicios interactivos
Barcelona (Redacción).- La empresa española de nutrición y dietética
NutriCare
ha logrado ampliar su fuerza de ventas gracias a la puesta en marcha de su plataforma de
e-learning
.
El nuevo formato de formación proporciona a los nuevos Asesores de la empresa un modelo de aprendizaje más motivador, didáctico y ameno que ha logrado incrementar su interés y se ha visto reflejado en un crecimiento del 75 por ciento en la cifra de nuevas incorporaciones a la fuerza de ventas a los tres meses de su
implantación.
El proyecto, puesto en marcha en enero de 2012, consistió en la implementación de una plataforma de e-learning y el volcado de parte de los contenidos del Curso de Asesor en nutrición.
Mediante el software elearning Animgallery de e-doceo, el equipo de formación de NutriCare creó un curso de 15 horas con animaciones, vídeos, tests y ejercicios interactivos, que gestiona con la herramienta elearning Manager de e-doceo, alcanzando un volumen medio de 500 alumnos.
5)
Bureau Veritas Escuela de Negocios, autorizada para ser Centro Universitario adscrito a la Universidad Camilo José Cel
a en RRHH Digital
RRHH Digital
La Escuela de Negocios de
Bureau Veritas
está viviendo un antes y un después en su historia debido a que la Comunidad de Madrid ha autorizado su adscripción, como Centro Universitario, a la
Universidad Camilo José Cela
. El anuncio se ha hecho público a través del Boletín Oficial de la Comunidad de Madrid, con fecha de 4 de diciembre, mediante la Orden 11505/2012, de 14 de noviembre.
Según esta disposición, el nuevo Centro Universitario podrá impartir estudios conducentes a la obtención de títulos oficiales de Máster, en modalidad eLearning, con validez en todo el territorio nacional.
Un factor que el Director General de Bureau Veritas Centro Universitario, Luis Lombardero, ha valorado positivamente como "un paso más en la ampliación de los servicios a nuestros clientes, a los que tenemos que agradecer su continua confianza", según dijo. Y afirmó que "en unos meses, una vez finalizado el proceso de verificación por la ANECA estaremos ofreciendo Másteres Oficiales, muy relacionados con el saber hacer de Bureau Veritas y con una orientación eminentemente práctica".
Fuentes: [varias ]