"... el insaciable caciquismo local haga mangas y capirotes del estatuto universitario, se entregue sin pudor a las andanzas del favoritismo en la designación de catedráticos y auxiliares y derive en beneficio de los amigos incondicionales, y no ciertamente para servir altas idealidades..."
(Santiago Ramón y Cajal, El Siglo Médico, 1919)



Hoy traemos a ete espacio a FutureLearn ... que qué es eso? ... pues al asalto mundial del free, del MOOC ... por las Universidades Inglesas en competición directa con las Americanas coursera y edEX .. y las españolas ...pobres peleándose por ... qué? por subsistir entre las familias de taifas, de carácter partidista y partidario, ...y cortijos nepóticos, que tienen (entre coleguitas) el control de las Universidades y departamentos universitarios,... no por mérito y capacidad !!! ...que españolito va a querer cursar #higherED teniendo a su disposición las mejores? ... cual es el objetivo? .. quien "dirige" la des-#€ducacion en la #€$pañaESTRAPERLISTA desde siglos ... preocupá única ... y exclusivamente por sus lios mafiosos con bancos y nepotismo de la hidra de la mafia del #PPCiuSOE ... que podría liderar en castellano .... pero , en fin , ... les dejo algunas de las notas de prensa aparecidas ....
1)
FutureLearn is UK's chance to 'fight back', says OU vice-chancellor
en The Guardian :
Following the launch of the UK's first Mooc platform, Martin Bean talks to Claire Shaw about 'blended learning' and why UK higher education can't afford to bore international students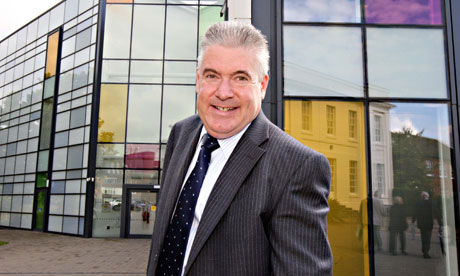 The UK's reluctance to step on board the Mooc train and incorporate distance learning into the traditional campus-based experience has deemed it a "bit boring" in the eyes of
international students
, claims Martin Bean, vice-chancellor of the Open University.
Until now, the US has led the way in the creation of
massive open online courses (Moocs)
, run by companies including
Coursera
,
edX,
and
Udacity
and catering to an estimated 3 million learners with hundreds of courses from a range of top institutions.
In a bid to "fight back" – in Bean's words – and compete with the growing demands of
students
globally, the
Open University
has
joined forces
with 11 other UK
higher education
institutions this month to form
FutureLearn
, a new company offering a range of free, open and online courses on one learning platform. (...)
2)
UK universities to launch free degree-style online courses
en The Thelegraph
Twelve top British universities have signed up to Futurelearn, a new programme offering free degree-style online courses to the public in direct competition with US-led rivals Coursera and edX.
3) Aquí os dejo también info sobre SIMON NELSON -
LAUNCH CEO
Simon Nelson was an early pioneer in taking media brands and content online. Launching one of the world's first mainstream on-demand services, the BBC Radio Player in 2002, the teams he led in BBC Radio and BBC Television then went on to win every significant digital content award including several Webbys, Emmys, Banff Rockies and Baftas, the Prix Italia, Prix Europa and the Rose D'or.
Joining the BBC in 1997, he became Head of Strategy for BBC Radio in 1998. He went on to set up and manage all digital activities for BBC Radio & Music, where he launched its world-leading podcast service in 2005 as well as the Radio Player. He then moved to head up all digital activities for the BBC's television divisions where he helped launch the iPlayer and built an award winning portfolio of online and cross platform services.
Since leaving the BBC, he has led a number of projects in TV, radio and publishing sectors for companies including Random House, UKTV, Specific Media and New York Public Radio. He currently oversees digital activities for Phaidon Press and Lime Pictures, roles he will retain whilst joining Futurelearn Ltd as Launch CEO.
FULL BIO IN LINKEDin
4) Por último, os dejo la nota de prensa de la proia web de
FutureLEarn
:
:
UK universities embrace the free, open, online future of higher education powered by The Open University.
Fuente: [ varias ]