Las burocracias del bienestar social pretenden un monopolio profesional, político y financiero sobre la imaginación social, fijando normas sobre qué es valedero y qué es factible. Este monopolio está en las raíces de la modernización de la pobreza. Cada necesidad simple para la cual se halla una respuesta institucional permite la invención de una nueva clase de pobres y una nueva definición de la pobreza. Hace diez años, lo normal en México era nacer y morir uno en su propia casa, y ser enterrado por sus amigos. Sólo las necesidades del alma eran atendidas por la iglesia institucionalizada. Ahora, el comenzar y acabar la vida en casa se convierten en signos, ya sea de pobreza, ya sea de privilegio especial. El morir y la muerte han venido a quedar bajo la administración institucional del médico y de los empresarios de pompas fúnebres.
Una vez que una sociedad ha convertido ciertas necesidades básicas en demandas de bienes producidos científicamente, la pobreza queda definida por normas que los tecnócratas cambian a su tamaño. La pobreza se refiere entonces a aquellos que han quedado cortos respecto de unpublicitado ideal de consumo en algún aspecto importante. En México son pobres aquellos que carecen de tres años de escolaridad; y en Nueva York aquellos que carecen de doce años.
Los pobres siempre han sido socialmente impotentes. El apoyarse cada vez más en la atención y el cuidado institucionales agrega una nueva dimensión a su indefensión: la impotencia psicológica, la incapacidad de valerse por sí mismos. Los campesinos del altiplano andino son explotados porel terrateniente y el comerciante -una vez que se asientan en Lima llegan a depender, además, de los jefazos políticos y están desarmados por su falta de escolaridad. La pobreza moderna conjuga
la pérdida del poder sobre las circustancias con una pérdida de la potencia personal. Esta modernización de la pobreza es un fenómeno mundial y está en el origen del subdesarrollo
contemporáneo. Adopta aspectos diferentes, por supuesto, en países ricos y países pobres
Ivan Illich. La sociedad desescolarizada . Morelos.
Hoy traemos a nuestro espacio, para una sección que tenemos abandondada hace muuuucho tiempo
[5 enlaces][5 links] los siguientes enlaces sobre Mooc'os , high society & revolution educativa de las élites & subdesarrollo :
1)
Unlocking the Mystery of MOOCs: MIT hosts the LINC 2013 Conference
in Slice of MIT
MITx's first offer of an online MIT course back in December 2011
received a huge turn-out of almost 155,000 registrants
–including a 15-year-old student in Mongolia studying under Tony Kim '09, MEng '11. This fall, that student will attend MIT–but he will have to take the course he just aced, all over again.
That first course—Circuits and Electronics, or 6.002x—became an important talking point for speakers at
the sixth annual MIT LINC conference
. Educators from schools and universities all over the world came to Cambridge on June 16-19 to discuss how to supplement traditional education programs with online course materials. (...)
2)
Why Be Afraid of the Big Bad MOOC?
in The Drucker Institute
Here is this month's piece on the changing world of work from furniture maker
Herman Miller
, a company for which Peter Drucker long consulted and that continues to exemplify his principles of innovation and effectiveness.
Do massive open online courses—widely known by their acronym, MOOCs—portend the end of institutions of higher education as we've known them? Is learning in such manner all good, all bad or somewhere in between?
(...)
3)
Brainstorming With David Weinberge
r in WikiBrains Blog
Posted by
Leon
&
filed under
brainstorm
,
creative
.
As mentioned in our
previous post,
this month we had the opportunity to participate on
CET
's biennial international conference: "
Changing the Future"
Entrepreneurs, educators, researchers and policy makers from all over the world met in Tel-Aviv to brainstorm and bring innovative thinking into the field of education. Needless to say…it was awesome and energizing!
Having had the chance to hear from these leaders we did not think it fair to just tell you about the conference, we want to share! So we interviewed a few of the attendees for a brief brainstorming session, and they were glad to partake!
The interview below is with
Prof. David Weinberger
, co-author of the
Cluetrain Manifesto
, and author of several
other books
relating to Internet and Society. He is a fellow at the
Berkman Center
for Internet and Society at Harvard Law School and the Co-Director of the
Harvard Library Innovation Lab
.
Below a brief summary of our brainstorm:
1
4)
Cloud Universities and the Democratization of Higher Ed in HuufPOst College
Posted: 06/07/2013 10:50 am by
Victor Lopez
Student, Guilford College; Senior Staff Writer, The Guilfordian; President, Student Government Association
am a proponent of access, especially to education. MOCC, short for "massive open online course" offers education to those who might not otherwise have a chance and I am all for it.
According to Educause, a company leading the IT industry in Higher Education, "MOOC is a model for delivering learning content online to virtually any person -- and as many of them -- who wants to take the course. Course activities can be scheduled or asynchronous, and a fluid structure is valuable because students can choose their level of participation and many will do so in an à la carte manner. A MOOC throws open the doors of a course and invites anyone to enter, resulting in a new learning dynamic."
Had MOCCs been available in my youth; I might have taken advantage of their free benefits.
My biological father is an alcoholic Cuban refugee and my birth mother is schizophrenic. I endured forty foster homes, three group homes and eventually the death of adopted parents, all before my fifteenth birthday. My education was haphazard.

I spent little time thinking of secondary education. I was too busy trying to survive.
I was later adopted, as an adult, and my new mother helped me to go back to school. I became wildly and passionately involved in my college. My story is rare. Most who walked a minute in my shoes will never see the inside of a college classroom.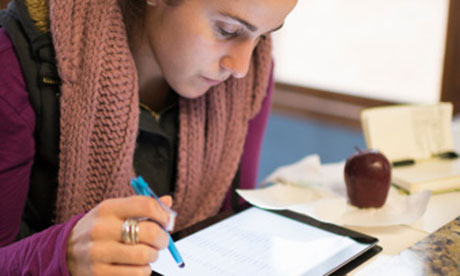 5)
Moocs are the clever way to keep up to date
Leading UK universities offer short Mooc courses to help mature students stay abreast of the latest developments in The Guardian 308,000 students from 167 different countries signed up to the first UK moocs last year. Photograph: Gary Chapman/Getty Images The world of distance learning has changed beyond recognition since the first correspondence courses dropped onto doormats more than 40 years ago. Classes of thousands from around the world can now join interactive lectures for free. This is the world of moocs – massive open online courses – which have blazed a trail in the US. This autumn, 21 UK universities – including Bristol, Leeds and Southampton – are preparing to launch their own moocs in partnership with the Open University.
(...)
Si el primer tema musical del film de los años 50 era:
Can't stand waitin', can't still waitin' on you, can't stand waitin', waitin' on you.
You got to let me know, are you serious about it, you got to let me know, can I count on you ?
High society, high society girl livin' in a high society, high society world.
High, high, high society High, high, high society, High, high, high society.
Night after night, [ From: http://www.metrolyrics.com/high-society-girl-lyrics-laid-back.html ] night after night, checkin' out with the jetset, you better check it out, can I count on you ?
High society, high society girl livin' in a high society, high society world. High society, high society girl livin' in a high society, high society world.
2* High, high, high society, high, high, high society, high, high, high society.
el segundo que traemos , tan demoledor y evocador como el primero , para el mundo de la educación es este ...
Y es que andamos borrachines , ebrios de ..., a vueltas con lo mismo, desde aquellas discusiones de los 90 sobre LMS (learning management system) y EVA (Entornos virtuales de Aprendizaje) .. así que para ilustrar nuestra idea ... seguimos con ese film con el que empezamos .. si al principio era un negrito soplador hablando e la high society .. ahora la visión de los blanquitos ... sobre los EVA's .. BRINDEMOS por la HIGHRevolution CLASS ... & su CONNECTIdiVISMO !!....atentos a la letra... atentas ..
brindeMOOCS con Champan francés .. o desayunemos con diamantes!!!
lalalalalalailala ;-) .
salúos y salud
MIKE:
I have heard among this clan
You are called a forgotten man

DEXTER:
Is that what they're sayin'?
Well, did you evah!
What a swell party this is!

MIKE:
And have you heard the story of
A boy, a girl, unrequited love?

DEXTER:
Sounds like pure soap opera

MIKE:
I may cry

DEXTER:
Tune in tomorrow

DEXTER:
What a swell party this is
What frills, what frocks

MIKE:
What broads

DEXTER:
What furs, what rocks

MIKE:
They're beautiful

DEXTER:
Why, I've never seen such gaiety

MIKE:
Neither did I!

DEXTER:
It's all just too, too exquis, really

MIKE:
This French champagne

DEXTER:
Domestic

MIKE and DEXTER:
So good for the brain

MIKE:
That's what I was gonna say!

DEXTER:
You know you're a brilliant fellow?

MIKE:
Thank you

DEXTER:
Drink up, chap.
Ah, please don't eat that glass, my friend.
Have you heard about dear Blanche?
Got run down by an avalanche.

MIKE:
No!

DEXTER:
Don't worry.
She's a game girl, you know.
Got up and finished fourth.

MIKE:
This kid's got guts.

DEXTER:
Havin' a nice time?
Grab a line

MIKE:
Have you heard that Mimsy Starr

DEXTER:
Oh, what now?

MIKE:
She got pinched in the Astor bar

DEXTER:
Sauced again, hey?

MIKE:
She was stoned!

DEXTER:
Well, did you evah?

MIKE:
Never!

MIKE and DEXTER:
What a swell party this is!

MIKE:
It's great

DEXTER:
Ah, it's great

MIKE:
It's grand

DEXTER:
So grand

DEXTER and MIKE:
It's wonderland!

DEXTER:
We sing

MIKE:
We sing

DEXTER:
So rare

MIKE
So rare

DEXTER and MIKE:
Like old Camembert
Like baba au rhum

DEXTER:
Ba, ba, ba bum!

Mike:
Don't dig that kind of crooning, chum!

DEXTER:
You must be one of the newer fellows!

DEXTER and MIKE:
Have you heard?
It's in the stars
Next July we collide with Mars
Well, did you evah?
What a swell party, a swell party, a swellegant, elegant party this is!

DEXTER:
I drink to your health

MIKE:
Nah! Let's drink to your wealth

DEXTER:
You're my bon ami

MIKE:
Hey, that's French!

DEXTER:
Liberty

DEXTER and MIKE:
Fraternity
Have you heard?
It's in the stars
Next July, we collide with Mars.
Well, did you evah?
What a swell party, swell party, swellegant, elegant party this is!
(leer más...)
Fuente: [ ]