Artículo 7:
Recuerdan los anarquistas presos por más
124 días sin acusación en Barcelona
y sin más motivos reales que el haber escrito una serie de comentarios "políticamente incorrectos" en Facebook .. o el caso de
Noelia Cotelo, presa torturada, violada y en dispersión por su lucha
; o el reciente caso de la asociación
Herrira
, de presos
vascos, acaso
defender presos es equiparable
con el terrorismo
?, es condenable, perseguible defender los derechos de la gente encarcelada? ... o tambien ... los más de 100 muertos a manos de la ultraderecha española, policia armada, guardia civil y policía española durante los años 70 y 80 .. , con la responsabilidad , como minimo, de algunos ministros como Manuel Fraga , Adolfo Suarez y Martin Villa, y otros torturadores, como Meliton Manzanas , en que pais europeo un ex miembro de LA GESTAPO NAZI , SERÍA CONDECORADO por Aznar un presidente de gobierno ? ... se imaginan a Merkel dadndo la medalla de Alemania a título postumo a Hitler o a Himmler ?... como explicamos en los posts del martes, 27 de agosto de 2013
#INtransicion (II) ....Atado y bien atado [1983] + de 100 muertos SIN JUSTICIA, RESPONSABLES? .....documental censurado ..por? OTRO FRANCO!!
y del martes, 27 de agosto de 2013
#INtransicion (II) ....Atado y bien atado [1983] + de 100 muertos SIN JUSTICIA, RESPONSABLES? .....documental censurado ..por? OTRO FRANCO!!
Todos son iguales ante la ley y tienen, sin distinción, derecho a igual protección de la ley. Todos tienen derecho a igual protección contra toda discriminación que infrinja esta Declaración y contra toda provocación a tal discriminación.
Artículo 8:
Toda persona tiene derecho a un recurso efectivo ante los tribunales nacionales competentes, que la ampare contra actos que violen sus derechos fundamentales reconocidos por la constitución o por la ley.
Artículo 9
Nadie podrá ser arbitrariamente detenido, preso ni desterrado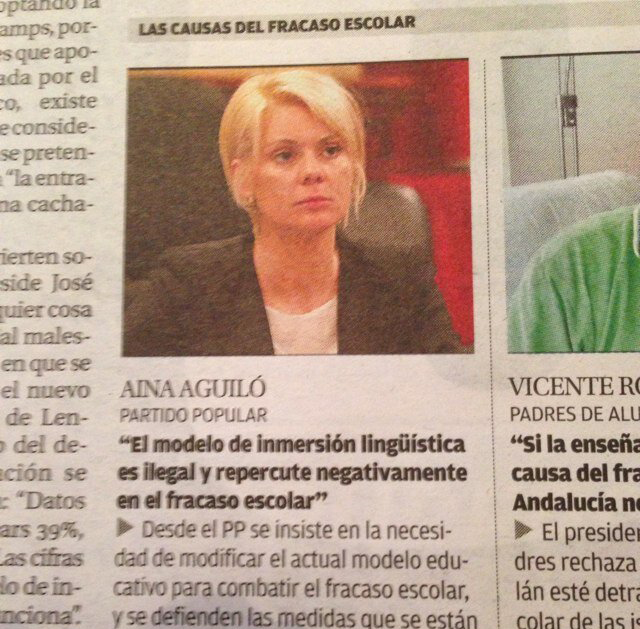 Esto Sólo por poner algunos ejemplos, bastaría recordar tambien en la reciente huelga de educación en las Baleares como diputados del Partido Popular que amenazan con
quitar la patria potestad a los padres que siguan la huelga
, Ana María Agulló:
Padres están obligados a llevar a hijos a escuela, de no ser así TM tiene potestad para retirar custodia art FMerino hoy @elmundobaleares #
— Ana María Aguiló (@AnaMariaAguilo) September 25, 2013
'Els pares estan obligats a portar els nins a l'escola, si no és així el Tribunal de Menors té la potestat per a retirar-ne la custòdia', diu Aguiló avui en el seu Twitter, citant un article del diari El Mundo Baleares.
O el diputado , Antoni Camps Casasnovas
del partido en el gobierno que amenaza a los huelguista con LISTAS NEGRAS .. aquí les dejo un extracto de
su artículo escrito en "El mundo"
:
",
Lo positivo de esta huelga es que
sabremos,
con nombres y apellidos, quienes están preocupados por el futuro de nuestros hijos, y quienes, por el contrario, juegan con los alumnos
para conseguir objetivos políticos" .
.. al que podríamos sumar uno tras otro , un pais donde todavía andan en las cunetas asesinados , muchos de ellos cristianas y cristianos , sin sepultura , mientras la curia y la corte como dice el Papa Francisco , la lepra del papado BRAZO EN ALTO BAJO PALIO A FRANCO y sus herederos... mientras en Francia homenajean a los republicanos que liberaron Paris .. ay! la impunidad , la impunidad ... una y otra vez, en la península ibérica la impunidad ... la impunidad para los de siempre. En España todo va bien, mientras pienses como los que mandan, y mientras no hables , o te organices, ...
"Ser libre no es simplemente desprenderse de las

cadenas

, sino vivir de un modo que aumente la libertad de los demás".

#

twittsofia

Mandela

o como dijo Rosa Luxemburgo, "quien no se mueve no siente las

cadenas

"...
. como los 7 juanetes del apocalipsis , los 7 señores (no había ninguna señora) que EN SECRETO se inventaron una constitución ... sin PROCESO CONSTITUYENTE ... democracia de artura !!!
la impunidad, la impunidad, la impunidad... siempre la impunidad ..
Así que aquí tienen, después de mi aportación la información sobre el BLOG ACTION DAY ,
aquí puedes registrarte
. y el tema de este año son los derechos humanos .. algo que más que nunca , comienza a ser una reclamación unánime en este pais del estraperlo y la INJUSTICIA (asesinatos nunca investigados y mucho menos resueltos, terrorismo de estado, violencia policial, ausencia real de libertad de prensa , llevar a la miseria a millones de trabajadores, robos desde el estado y el sistema de la mafia de PARTIDOS a la población, amenazas desde el estado y el gobierno por ejercer el derecho a huelga , corrupción, paro, ) pero no se preocupen ya ha comenzado como en los 30 la patraña de los anarquistas, que queman y ponen bombas en iglesias y la campaña publicitaria de los panfletos del régimen ... para llevar a la sensación de caos al pais .. y ZAS ... de nuevo como en el 36 y despues en el 73 ... (justo cuando la terna en la que Manuel Fraga pierde y nombra el Consejo de Estado al almirante Carrero Blanco Presidente del Gobierno ,.. que le sentó tan mal, tan mal, tan mal, a Manuel Fraga , fundador e inventor de AP y PP .. y voló, voló, voló ... no duró de presidente ni unos meses ... y es que .. aquí les dejo enlace al
Informe Anual 2013 de Amnistia Internacional sobre España
.. y pueden mirar también el resto de años ..
Human Rights is the theme for Blog Action Day 2013
I am very pleased this year Human Rights will be our theme for Blog Action Day on October 16, 2013. We chose it Human Rights for two reasons. Firstly it is very topical at the moment – our news and social media channels have been full of instances of people's Human Rights not being upheld or protected. Secondly, you you asked for it.
Earlier in 2013, over 800 Blog Action Day participants suggested and voted for ideas for this year's theme. Many of the many suggestions made, it seemed that ideas that feel under the banner of Human Rights were the most popular. In particular issues around slavery, trafficking and persecution.
So how will you cover Human Rights for Blog Action Day on October 16? It's a theme that has many angles, and over the coming months, Blog Action Day will be working with partner organisations around the world to ensure our participants get access to information, interviews, activities, videos, images, audio, data and conversations that will make your Blog Action Day post a powerful part of the global conversation.
The first thing you need to do is register to take part in Blog Action Day. We encourage everyone to register their blog so we can keep you updated with great content, opportunities and ideas from our partners that you can to include in your Blog Action Day post. Also, we list all of the participants on our website so you can connect with other bloggers and will be providing official participant badges that you can add to your site.
If you already know how you want to talk about Human Rights for Blog Action Day, leave a comment, as it might help someone who isn't sure of what to cover or you may even find someone to work with on your blog.
If you need to find out more about Human Rights, I suggest the best place is the Universal Declaration of Human Rights. I will leave you with a quote from Eleanor Roosevelt on the
Universal Declaration of Human Rights:
"Where, after all, do universal human rights begin? In small places, close to home – so close and so small that they cannot be seen on any maps of the world. Yet they are the world of the individual person; the neighborhood he lives in; the school or college he attends; the factory, farm, or office where he works. Such are the places where every man, woman, and child seeks equal justice, equal opportunity, equal dignity without discrimination. Unless these rights have meaning there, they have little meaning anywhere. Without concerted citizen action to uphold them close to home, we shall look in vain for progress in the larger world."
This year Blog Action Day will be bringing 1000s of bloggers from over a 100 countries to have a global conversation about Human Rights. Whatever your blog, vlog, podcast, photo or graphic site is about, you can take part by registering at
http://blogactionday.org/re
... By registering you will get access to fantastic content and ideas for your Blog Action Day post, from our partners.
Sobre Blog Action Day
Blog Action Day es un evento anual abierto, que empezó el 2007. Su objetivo es unir bloggers de todo el mundo con el objetivo de despertar conciencias y desencadenar un debate global sobre un tema relevante que afecta a todo el mundo.
Nuestro objetivo
El objetivo de Blog Action Day es crear un debate positivo que facilite el bienestar social sobre un tema importante. Pedimos a bloggers que se reserven un día en su calendario y se focalicen en un tema importante.
Escribiendo todos sobre un mismo tema, en un mismo día, desde sus propias perspectivas, la comunidad bloguera focaliza el debate y ofrece a sus audiencias la posibilidad de formar parte de un debate global, despertar conciencias e incluso encontrar financiamiento para ONG.
¿Qué temas ha cubierto el Blog Action Day?
2007, el tema fue el Medio Ambiente, vimos bloggers haciendo experimentos medioambientales, detallando ideas novedosas de prácticas sostenibles, focalizando la atención de sus audiencias en organizaciones y compañías que promueven agendas verdes.

2008, cubrimos el tema de la Pobreza, y de modo similar dirigimos las energías de la comunidad bloggera para generar un amplio debate desde diversas perspectivas, enfoques e identificando soluciones novedosas e inesperadas.

2009, focalizamos el debate alrededor del Cambio Climático y llevamos nuestras voces a todo el mundo para discutir sobre un tema que nos amenaza a todos. También movilizamos decenas de miles de personas con el objetivo de implicarlas en el movimiento para un futuro más sostenible.

2010, nos fijamos en el tema del Agua, con miles de bloggers entusiasmados para poner luz en un tema al que a menudo se pasa por alto y para encontrar financiamiento para organizaciones que trabajan con temas relacionados con el agua.

2011, se focalizó en diversos temas relacionados con la Comida, como, por ejemplo, la salud, el hambre, la calidad, la cultura, la agricultura, el acceso y el derroche coincidiendo con el Día Mundial de la Alimentación.

2012 se centró en el tema de la energía de Nosotros. Esto animó a la gente con temas para discutir cómo unirse entre sí por lo podían lograr cosas importantes para mejorar nuestra sociedad.
El tema para el Blog Action Day 2013 es de Derechos Humanos
La historia del Blog Action Day
El Blog Action Day fue fundado por Collis & Cyan Ta'eed el verano de 2007. Con el apoyo de su equipo en Envato en Australia y contando con numeroso voluntarios, pusieron de acuerdo a miles de bloggers para escribir sobre el Medio Ambiente el 15 de octubre de 2007 – haciendo del primer Blog Action Day un éxito inmediato e inesperado.
En 2009, Collis & Cyan pidieron al equipo de Change.org, que por aquel entonces lideraba la red de blogs para temas sociales, que asumieran la responsabilidad del Blog Action Day para ampliar su alcance.
Change.org hizo crecer exitosamente el Blog Action Day hasta el 2011, cuando confiaron el Blog Action Day a Voice Blogging Project, que ha desarrollado numerosos eventos y proyectos juntando bloggers, ONGs y medios de comunicación para cubrir temas globales relacionados con los derechos humanos, el medio ambiente, la pobreza y el desarrollo desde 2009.
El Voice Blogging Project está liderado por sus cofundadores, Karina Brisby y Jason Wojciechowski. Karina Brisby y Jason tienen una extensa experiencia creando proyectos digitales de innovación en Europa, Norteamérica, África, Australia y Sudamérica.
(leer más...)
Fuente: [ blog action day]